Weeping Willow Trees
Weeping Willows are large graceful fast growing shade trees with wispy branches that sway in the slightest breeze.

They are very fast growers and can get up to 50 feet high, but around 30 to 35 feet is more realistic for the desert Southwest.

They require full sun and lots of water. Soil must be kept moist around these trees or stress induced problems start to emerge.

The trees in the top photo are growing in the Mesilla Valley of New Mexico, where the water table is high because of the Rio Grande river and they are most likely flood irrigated. That is why they look so healthy.

Healthy-looking, older Weeping Willow trees are actually very hard to find in the desert Southwest, lack of water is usually the heart of the problem.

Weeping Willows are one of the first trees to leaf-out in the spring. Small tassels are followed by long slender leaves. Really a beautiful tree when taken care of properly.

Weeping Willows, like their cousin the Globe Willow, have several inherent problems. The tree will drop leaves and branches even when healthy, when stressed it will drop even more. This is a natural process called Cladoptosis and can be a very messy problem, which occurs year-round.

High winds will also break branches, as the tree has very soft wood.

Insects and diseases seem to plague this tree more than others.

Borers love the tree, as well as aphids and spider mites.

The disease "Frothy flux" runs rampant in willows and the fungus disease "Cytospora canker" is very devastating to willows. Stress tends to invite these diseases, so proper care is essential for a well-shaped, healthy Weeping Willow tree.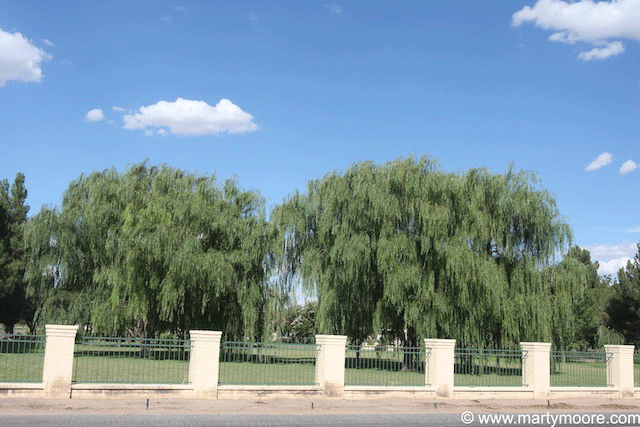 Healthy Weeping Willows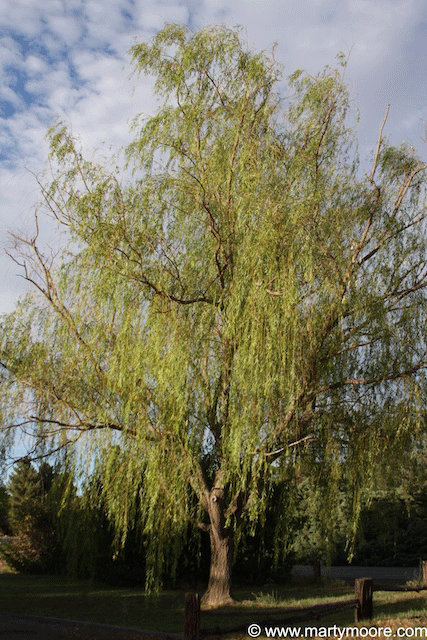 Weeping willow, iron deficient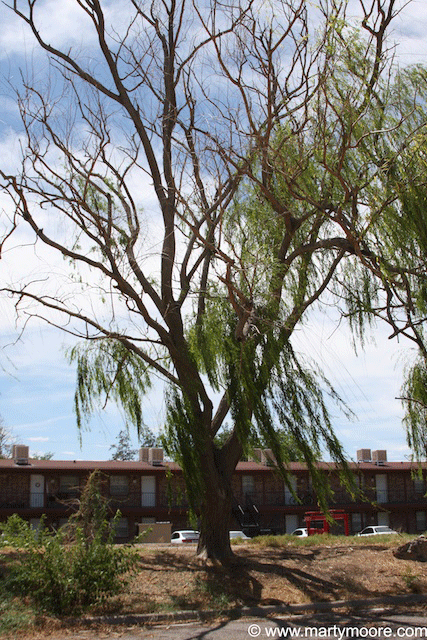 Weeping Willow, dying from lack of water